One of the concerns we hear from people is "How do we backup our data when it lives in the cloud?" Well, if you are using Google Apps, or even just plain old Google Docs, the option is there to do this.
The first thing you'll need to do is to select all of your documents. Because Google uses an "infiinite scrolling" technique to display your documents, you may need to select "All Items" in the left menu and then scroll all the way to the bottom of your list of items; ensuring that Google has loaded all the documents on the screen. Then you can pull down checkbox selector and choose "Select all visible". This will put a checkbox next to each item on the list.
Next you'll either right click on the listed items and select "Export" or pull down the "More Actions" menu item and select "Export".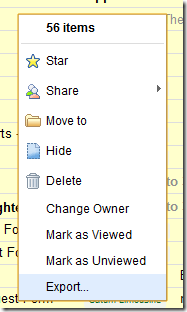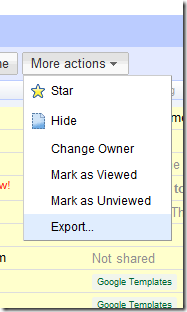 Next you'll be presented with a dialog box where you can, based on a document type, determine how (or if) you want them exported.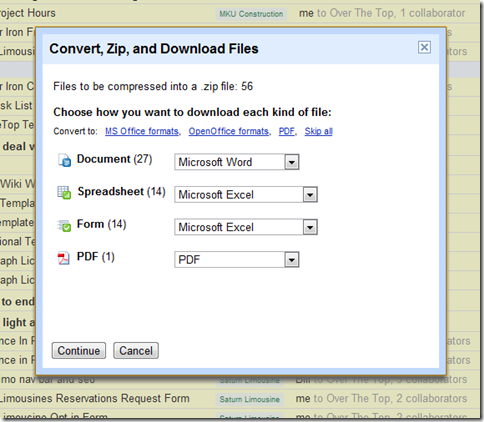 For each of the following document types, you can choose from the following formats:
Document

HTML
Microsoft Word
Open Office Document
Plain Text
PDF
Rich Text Format (RTF)

Spreadsheet

Microsoft Excel
Open Office Spreadsheet
PDF

Form

Microsoft Excel
Open Office Spreadsheet
PDF

PDF
Once you click the "Continue" button, the system will start converting and compressing all of your documents. You will get an estimate of the time required to convert and compress them and give you the option to have them emailed to you when complete, cancel the archive job or "Start Over".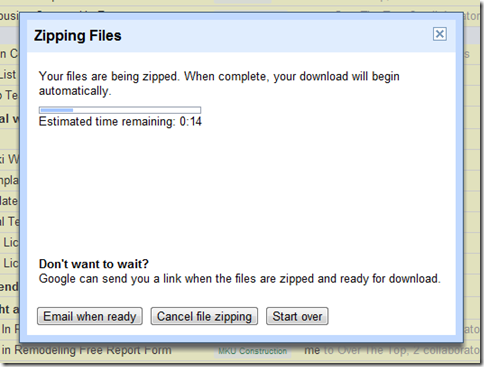 If you do nothing, when the progress bar winds down to 0:00 the system will notify you that "Zipping Complete" and a file "Save As" dialog box will pop up if your browser isn't configured to save all downloads to a specific location. If it is, you'll find the file naming convention will be "documents-export-YYYY-MM-DD.zip" where YYYY is the year, MM is the numerical representation of the month and DD is the numeric representation of the day of the month.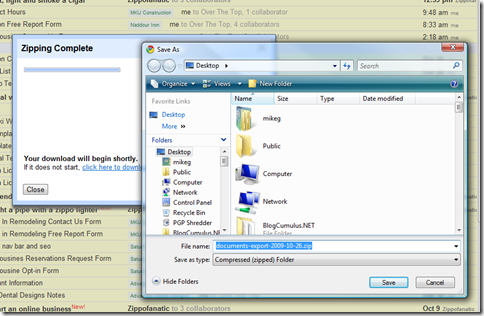 This is one more reason why you should outsource your data headaches to Google Apps: data portability! You can always and easily export or backup that data offline if you feel the need to.
I'm a technologist at heart, assisting companies best utilize the Internet to market themselves and sell their products and services online. This includes organizations as large as Google and as small as one or two individuals.
At Over The Top and Exhibit A Communications, I've programmed solutions for Google as well as at least one other company that was later acquired by Google.

I've been CTO of an Internet SaaS company and spent my time pretty evenly between guiding the future technical strategy of the company, architecting software solutions for my dev teams, designing and running a data center to service our clients world-wide as well as being a technical evangalist/sales engineer to our media clients large and small.

I've also been Chief Photographer of the Daily Sun/Post newspaper back when it was a 5-day a week daily newspaper.

I also spent a great many years as a beach lifeguardfor the City of San Clemente as well as Jr. Lifeguard instructor and then as it's program coordinator.
Bragging rights
Private Pilot with Instrument rating and proud husband of soon to be 25 years (and counting).
Latest posts by Michael Gibbs (see all)