There has always been a challenge associated with differentiating between Google Apps Accounts and Google Accounts. One of the big challenges is that Google doesn't recognize Google Apps Accounts as Google Accounts for most of their services. Back in May, Google announced plans to change all that.
In the fall of 2010, Google is planning on moving all existing Google Apps accounts (all editions too, not just Premium and Educational versions) over to this new system that will allow users to sign in for the majority of Google services using their Google Apps account. Of course, since this will be accessing the directory information for your Google Apps account, your domain administrator will be able to choose which Google Services people can use their Google Apps login to access.
Previously, the plan was to launch this with a select grouping of applications but the most recent update to the Google Apps Admin Help page about the Google Apps Account Changes indicates
"With a few possible exceptions, Google Apps customers will be able to use all Google services. We will continue to update this area of the Help Center as more information becomes available about this."
That being said, they have posted a list of services that will not be supported (or aren't supported right now) by this change:
Health
Checkout
PowerMeter
Android Developer
iGoogle
Buzz
Profiles
Google Extra Storage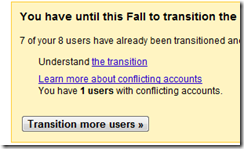 One of the first things that I've found useful was to take my Google Account that used my Google Apps email address and make it be something of the form name+personal@domain.com. When doing this, I went ahead and set the password for this to be the same as it was before. This then enables the account switching to make it easier to jump back and forth between accounts.
When you make this change, they offer you three options: create a new Google Account login @gmail.com, change the Google Account login to a different external email address or to continue to use a temporary address (in the format name%domain@gtempaccount.com). As you can see from the previous paragraph, I elected for the middle option. Email for this particular selection will still end up in my Google Apps email but there is no confusion any more (on Google's part) on which login to use (Google Apps Account or Google Account) for their services that support Google Apps logins versus those that only support Google logins.
If you are interested in joining the test early, you can fill out this Google Form to help test the next generation infrastructure for Google.
To help administrators prepare their users for this change, they even provide you with an email template to help ease the transition. You'll find this from a link in the transition wizard. Nothing too fancy but it does provide users with links to the Transition Checklist and the help center.
Some gotchas to look out for during this transition:
Sync your offline mail before making the transition so you don't lose any offline mail
Offline Google Calendar and offline Google Docs will no longer work after the transition (may come back as they move these apps to HTML5 but not available right now)
You can no longer access multiple Google Accounts at the same time without jumping through some hoops. Read this article as a guide to using multiple Google Accounts. Our preferred solution is that you go to the Sign in to multiple Google Accounts page and turn it on. This will give you access to account switching for services that support multiple sign-in. Currently this is supported by Calendar, Code, Gmail, Reader and Sites. If the Google service doesn't currently support multiple sign-in, it will default to using the credentials of the account that you used when you first signed into a Google service in the current browser session. You also will lose the ability to use Offline Mail and Offline Calendar by turning on multiple Google Account sign-ins. If this is all too restrictive, you might try some other techniques to manage this like using one browser (say Chrome) to access your Google Apps services and Firefox to access your personal Google Accounts or utilize the Incognito window in Chrome, Firefox and IE8 or use profile switching in Chrome and Firefox. Here's another page about using multiple Google accounts simultaneously.
After the transition, you'll notice a new menu structure:
th: 0px; margin-left: auto; border-left-width: 0px; margin-right: auto" title="New Google Apps admin menu" src="/wp-content/uploads/image_thumb_50.png" border="0″ alt="New Google Apps admin menu" width="644″ height="96″ />
This new structure better separates the Organizations and Users from Groups. O&U menu tips their hand to some of the changes. The first is the fact that Premium Apps accounts can create Organizations that comprise of multiple Google Apps domains, each with their own security models and email addresses but that share certain elements, not the least of which is shared Docs.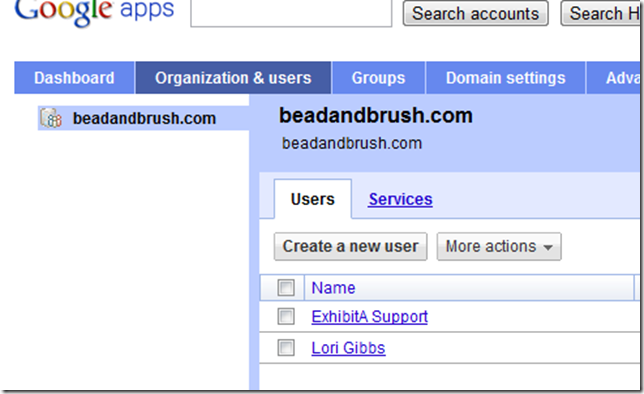 If you want to learn more about this feature, see how to Manage multiple domains with Google Apps. They provide a great graphic to help visualize how this works: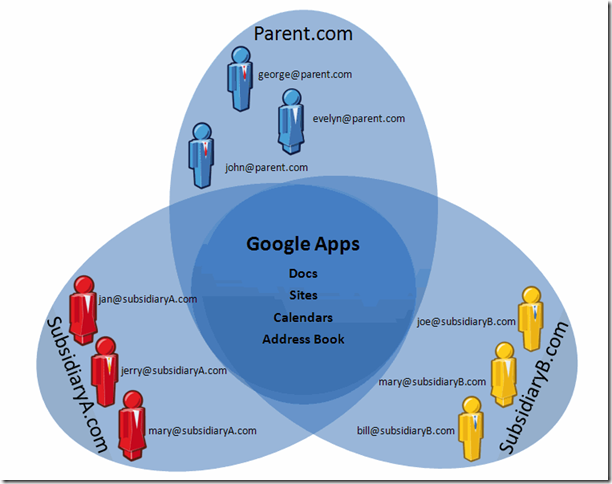 Google Apps administrators will start seeing messages in their admin control panel shortly about starting the conversion so those of you who are charged with managing their company's Google Apps account should get into the habit of logging in regularly (weekly?) to begin the process.
Have you been through this process yet? If so, please use the comments below to let us know how YOUR organization fared during this transition or any tips/tricks that you might have discovered? If not and you have questions, we encourage on target questions through the comments section below. Please understand that if you do leave a comment, they are moderated to eliminate spam so your question may take a day or two to show up.
UPDATED: 10/1/2010 1741 PDT
Wow, no sooner than I post this does Google change things yet again. One of the domains I manage has not begun the transition yet to Google Accounts for my Google Apps users when I logged into the admin and I see a message that shows this Apps account has been moved over to use the new Organizations & Users model that I talked about above: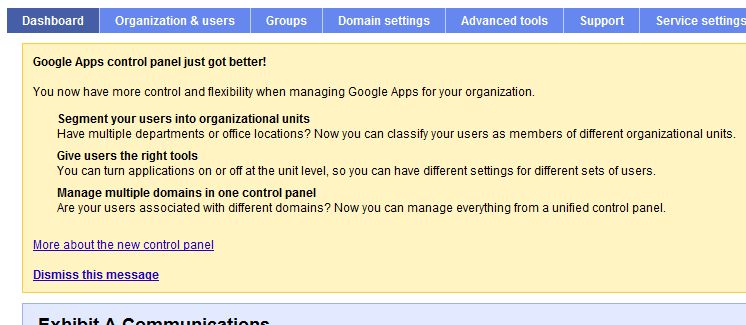 I'm a technologist at heart, assisting companies best utilize the Internet to market themselves and sell their products and services online. This includes organizations as large as Google and as small as one or two individuals.
At Over The Top and Exhibit A Communications, I've programmed solutions for Google as well as at least one other company that was later acquired by Google.

I've been CTO of an Internet SaaS company and spent my time pretty evenly between guiding the future technical strategy of the company, architecting software solutions for my dev teams, designing and running a data center to service our clients world-wide as well as being a technical evangalist/sales engineer to our media clients large and small.

I've also been Chief Photographer of the Daily Sun/Post newspaper back when it was a 5-day a week daily newspaper.

I also spent a great many years as a beach lifeguardfor the City of San Clemente as well as Jr. Lifeguard instructor and then as it's program coordinator.
Bragging rights
Private Pilot with Instrument rating and proud husband of soon to be 25 years (and counting).
Latest posts by Michael Gibbs (see all)