If your Google Sites or custom website is using Google Forms for data collection, you're probably quite familiar with going to the spreadsheet to collect information submitted by your site visitors. However, many times you want to know RIGHT AWAY that a customer is reaching out to you because they are a hot lead that you'll want to contact immediately.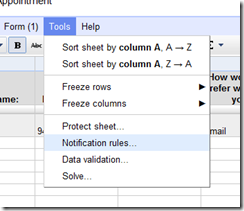 The easiest way to do this is to subscribe to changes to this form. You do this from the "Tools" menu and selecting "Notification rules…"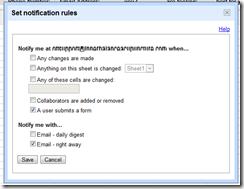 On the resulting screen, you have your choice of options but most people will want to select the checkboxes for notification when "A user  submits a form" and to notify with "Email – right away". Once you've made these changes, you will receive an email notification each time a form is submitted.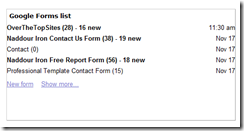 If you are using a product like Google Sites for your intranet or you are using iGoogle as your default home page, you can always add the Google Docs: Forms List gadget. This will give you a list of all of your forms, the number of responses in the form, the number of new ones since the last time you viewed the spreadsheet as well as the date of the last submission. You can do this by using "Insert" menu, selecting "More Gadgets" and on Setup your gadget screen search for "Google Docs: forms list" to find the gadget. The results will look like the following and are very helpful if you are monitoring multiple forms.
Let us know using the comments below if you've tried this technique and if you've found it helpful. Or better yet, if you have a better way of doing things, please share this with all of us using the comment section below.
I'm a technologist at heart, assisting companies best utilize the Internet to market themselves and sell their products and services online. This includes organizations as large as Google and as small as one or two individuals.
At Over The Top and Exhibit A Communications, I've programmed solutions for Google as well as at least one other company that was later acquired by Google.

I've been CTO of an Internet SaaS company and spent my time pretty evenly between guiding the future technical strategy of the company, architecting software solutions for my dev teams, designing and running a data center to service our clients world-wide as well as being a technical evangalist/sales engineer to our media clients large and small.

I've also been Chief Photographer of the Daily Sun/Post newspaper back when it was a 5-day a week daily newspaper.

I also spent a great many years as a beach lifeguardfor the City of San Clemente as well as Jr. Lifeguard instructor and then as it's program coordinator.
Bragging rights
Private Pilot with Instrument rating and proud husband of soon to be 25 years (and counting).
Latest posts by Michael Gibbs (see all)