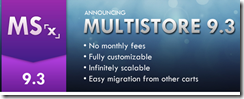 Yes, you heard that right. The much talked about v9.3 of AspDotNetStorefront has been released today.  However, is it right for you?
In a word, Yes! This release incorporates not only a slew of code adjustments (aka bug fixes) that will benefit existing site owners but also two big new features as well as a slew of new mini-features/configuration options.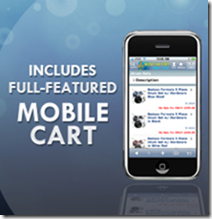 So, what's so special you ask? Well, how about a fully functional mobile commerce solution embedded in the application and it's FREE! That's right… the fine folks at Vortx (the corporate overlords of ASPDNSF) have decided to make this feature that was previously available at a monthly cost a permanent part of the package! I hope to get a chance to go in and play with this over the next few days as we start work on upgrading our customer sites to this new version.
Another big feature is a dramatically improved promotions engine. While previously you were pretty much limited to just offering coupons and customer-level discounts this new rules-based system to handle more complex discounts like "if customer buys product A, give them x% off product B" or "If customer has spend more than $xx since mm-dd-yy and they order anything in category Z, give them free shipping" and so on. You can give discounts, free gifts, special shipping rates and run the promos only with codes or keep them running all the time! I think it is time to fall in love with this product all over again!
Some of the other new features/configuration options are:
Support for "condition" attribute on variants (very important for Google Product Feeds)
Product mapping can be done in published AND unpublished categories (great for getting products fully configured before making them "live")
Cloned products (and variants) now default to unpublished (so necessary adjustments can be made before taking the product/variant live)
New customers can be manually assigned to a store through admin console (remember, this is a multi-store solution here so this is a welcome addition for those running multiple stores)
Product images can now optionally use the SEName instead of a productId (A big boon for on-site SEO)
More "hard-coded" strings have been moved out into string-resource tables (did you remember this is a multi-lingual product?)
Product "kits" now support upsell products
Merchants can disallow shipping to PO Boxes (as UPS requests) while still allowing the billing address to use a PO box (configurable through the appconfigs of course)
Payment changes include:
Verified by Visa skin token
CIM payments by Authorize.net
PayPal Payments Advanced Checkout (bringing PayPal support up to 5 types)
1stPay payment gateway added
Orders can be filtered by Google Checkout & Checkout by Amazon in admin view orders page
Inventory alerts can be set up on storefront to email merchant when inventory sinks below a threshold
Avalera tax service plugin fully supported (solution is "Certified for AvaTax")
And so much more. Please see the Release Notes for more details about the other changes/bug fixes.
Hopefully more information about this release as we get more "seat-time" while doing upgrades but so far it looks like a winner!
Do you have ideas for stuff that didn't make the cut on this release? Let us know about it in the comments below!
I'm a technologist at heart, assisting companies best utilize the Internet to market themselves and sell their products and services online. This includes organizations as large as Google and as small as one or two individuals.
At Over The Top and Exhibit A Communications, I've programmed solutions for Google as well as at least one other company that was later acquired by Google.

I've been CTO of an Internet SaaS company and spent my time pretty evenly between guiding the future technical strategy of the company, architecting software solutions for my dev teams, designing and running a data center to service our clients world-wide as well as being a technical evangalist/sales engineer to our media clients large and small.

I've also been Chief Photographer of the Daily Sun/Post newspaper back when it was a 5-day a week daily newspaper.

I also spent a great many years as a beach lifeguardfor the City of San Clemente as well as Jr. Lifeguard instructor and then as it's program coordinator.
Bragging rights
Private Pilot with Instrument rating and proud husband of soon to be 25 years (and counting).
Latest posts by Michael Gibbs (see all)