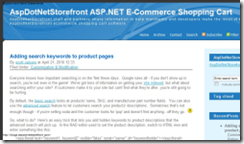 The newly launched AspDotNetStorefront blog launched with a bang recently. In addition to taking advantage of the opportunity to introduce the world to some of their unsung heroes in the Sales and Support department, their first programming tip is something that proved to be quite timely to one of our clients who was experiencing a particular problem with the internal full-text search.
Everyone knows how important searching is on the 'Net these days. Google rules all – if you don't show up in search, you're not even in the game! We've got tons of information on getting your site indexed, but what about searching within your site? If customers make it to your site but can't find what they're after, you're still going to be hurting.

By default, the basic search looks at products' name, SKU, and manufacturer part number fields. You can also use the advanced search feature to let customers search your products' descriptions. Sometimes that's not enough though – if you're selling soda and the customer looks for 'pop' and doesn't find anything…off they go.

So, what to do? Here's an easy trick that lets you add hidden keywords to product descriptions that the advanced search will pick up. In the RAD editor used to set the product description, switch to HTML view and enter something like this:

<asp:literal text="keyword1, keyword2″ visible="false" runat="server" id="keywordholder"></asp:literal>

This will place a hidden field on the page that customer's can't see, but that the search can. Whatever you enter in the 'text' attribute will work as keywords, making your products easier to find on your site!
Thanks ASPDNSF, we are looking forward to more gems so keep them coming! Hopefully you all will find this blog as helpful as we have so far.
I'm a technologist at heart, assisting companies best utilize the Internet to market themselves and sell their products and services online. This includes organizations as large as Google and as small as one or two individuals.
At Over The Top and Exhibit A Communications, I've programmed solutions for Google as well as at least one other company that was later acquired by Google.

I've been CTO of an Internet SaaS company and spent my time pretty evenly between guiding the future technical strategy of the company, architecting software solutions for my dev teams, designing and running a data center to service our clients world-wide as well as being a technical evangalist/sales engineer to our media clients large and small.

I've also been Chief Photographer of the Daily Sun/Post newspaper back when it was a 5-day a week daily newspaper.

I also spent a great many years as a beach lifeguardfor the City of San Clemente as well as Jr. Lifeguard instructor and then as it's program coordinator.
Bragging rights
Private Pilot with Instrument rating and proud husband of soon to be 25 years (and counting).
Latest posts by Michael Gibbs (see all)