Yes, I crow the advantages of using Google Apps in small to medium sized-businesses and that MOST people can effectively replace Outlook and just use the fantastic tools available with Google Apps to accomplish this and still be effective in their jobs. However, I still haven?t cut that cord myself. There were a number of compelling reasons why not and Google, thanks to the boffins at Google Labs, have knocked down one more barrier for me, and perhaps for you as well.
I?ve always relied very heavily on the Tasks feature in Outlook to help keep me on track and ensure I don?t miss any important deadlines. Most of these are initiated by emails and are just a quick CTRL-SHIFT K away. Now, the Gmail team has added Tasks as an option that you can turn on via Google Labs in Gmail interface (the normal as well as the Google Apps version). Not familiar with Labs? It should show up as a tab in your Settings page of Gmail. Or, you can use the quick link icon at the top of any Gmail page:

Once in the Labs tab of Gmail Settings, you turn on Tasks by clicking Enable in the following section:

They also offer you some tips on accessing and using your tasks:
Manage your email workflow better by converting emails into tasks: "More Actions > Add to Tasks"
ENTER creates a new task, TAB and SHIFT-TAB indent and un-indent, CTRL-UP and CTRL-DOWN let you reorder from the keyboard, and SHIFT-ENTER toggles back and forth between the detailed view for a task and the main view
After turning Tasks on, turn on Keyboard shortcuts in "Settings > General" and then use "SHIFT-T" to create tasks from your emails – even faster than using the More Actions menu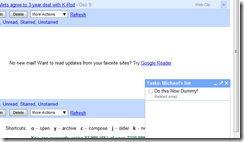 Once you?ve created a task, you?ll see your Task list floating on the page along with your inbox. You?ll see that you can mark a task completed, you can pop out the task list into a new window, there is a quick link to the Related Email as well. Y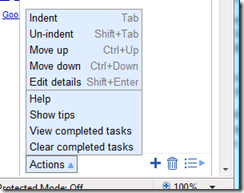 ou?ll find an Actions menu that allows you to prioritize your tasks by moving them up and down, indent them (or not) to create hierarchies, Edit the details of the task as well as hide and show what you?ve accomplished. Clicking on the plus sign will add a new task; the trash can will delete the selected task as you?d imagine. Lastly, under the list icon at the lower left of the task pane, you?ll find another menu that allows you to Refresh, Rename or Delete the current list as well as to create a new list. Once you have multiple lists, you?d use this menu to switch between them.
The only item that is missing (and hopefully will get added soon) is the ability to add a deadline and have an alarm go off (email or otherwise) when a deadline or time before a deadline is reached. They are just soooo close.
In case you were wondering, what is the number one thing that is keeping me from completely dumping Outlook at this stage? Well, I?m managing to many simultaneous mailboxes throughout the day to have to log in and out of each one (or to keep different browsers open for each identity) so until I either simplify my life or I come up with a better solution, I may be stuck with Outlook.
Any thoughts, suggestions, complaints? Please use the comments form below to tell me what you think!
I'm a technologist at heart, assisting companies best utilize the Internet to market themselves and sell their products and services online. This includes organizations as large as Google and as small as one or two individuals.
At Over The Top and Exhibit A Communications, I've programmed solutions for Google as well as at least one other company that was later acquired by Google.

I've been CTO of an Internet SaaS company and spent my time pretty evenly between guiding the future technical strategy of the company, architecting software solutions for my dev teams, designing and running a data center to service our clients world-wide as well as being a technical evangalist/sales engineer to our media clients large and small.

I've also been Chief Photographer of the Daily Sun/Post newspaper back when it was a 5-day a week daily newspaper.

I also spent a great many years as a beach lifeguardfor the City of San Clemente as well as Jr. Lifeguard instructor and then as it's program coordinator.
Bragging rights
Private Pilot with Instrument rating and proud husband of soon to be 25 years (and counting).
Latest posts by Michael Gibbs (see all)