One of the things that has kept me from moving from Outlook to using Gmail as my primary email interface (besides being able to aggregate a bunch of different addresses into a single interace) has been the lack of canned responses.
Well, it looks like this is no longer a problem. According to Google engineer Chad Perry in this posting on The Official Gmail Blog, they have finally added this feature!
If you're sick of typing out the same reply every time someone emails you with a common question, now you can compose your reply once and save the message text with the "Canned responses" button. Later, you can open that same message and send it again and again.
You can even combine this with filters to set up autoresponders.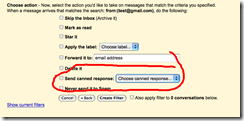 Gmail already lets you create filters based on a combination of keywords, sender, recipients, and more in your incoming messages. Turn on Canned Responses in Labs, and you can set a filter to grab one of your saved responses, create an automated reply, and hit the Send button for you.
The addition of Canned Responses to Filter Actions opens up the door for much greater use of this tool for businesses! If you are using Google Apps and want some help figuring out how to implement this in your business, drop us a line.
As always, your comments are welcome (and encouraged) below!
I'm a technologist at heart, assisting companies best utilize the Internet to market themselves and sell their products and services online. This includes organizations as large as Google and as small as one or two individuals.
At Over The Top and Exhibit A Communications, I've programmed solutions for Google as well as at least one other company that was later acquired by Google.

I've been CTO of an Internet SaaS company and spent my time pretty evenly between guiding the future technical strategy of the company, architecting software solutions for my dev teams, designing and running a data center to service our clients world-wide as well as being a technical evangalist/sales engineer to our media clients large and small.

I've also been Chief Photographer of the Daily Sun/Post newspaper back when it was a 5-day a week daily newspaper.

I also spent a great many years as a beach lifeguardfor the City of San Clemente as well as Jr. Lifeguard instructor and then as it's program coordinator.
Bragging rights
Private Pilot with Instrument rating and proud husband of soon to be 25 years (and counting).
Latest posts by Michael Gibbs (see all)