Google Sites, a member of the Google Apps family as well as a stand-alone feature, has added site template to the feature list of this great product. Now, instead of the relatively lame themes you now have complete site templates that include not only the overall theme of the site but also suggested content, structure and gadgets that take full advantage of the platform.
Now don't get me wrong, the themes were nice for personal sites in a GeoCities/FrontPage kind of way but there is so much you can do with Templates. Admittedly, many of the initial templates that are available are still a little "blocky", there are a number that one would be hard pressed to tell weren't custom sites if it weren't for the
I've been fortunate enough to have done some work with Over The Top Sites on some of the templates that were released last night and it is amazing what you can do by selecting from these templates. Compare the results of this one particular makeover for an imaginary restaurant: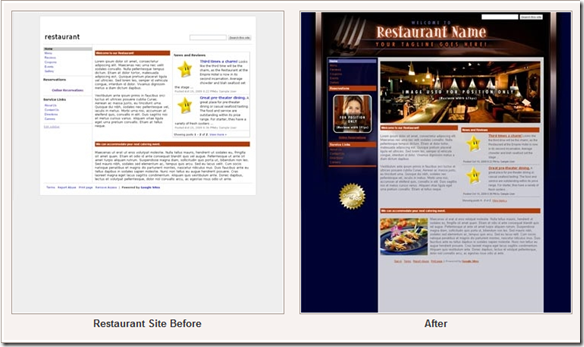 I've used these tools in the past to build templates for project intranet for clients and I'm looking forward to taking these designs up to the next step in the future. And what is nice I won't have to create all the initial pages and site structure one page at a time. Now it is a simple matter of creating a new template once and then selecting this in the future every time I create a new project. This could save a minimum of two hours setup on each new account.
Way to go guys!
As always, we welcome any VALID comments below.
I'm a technologist at heart, assisting companies best utilize the Internet to market themselves and sell their products and services online. This includes organizations as large as Google and as small as one or two individuals.
At Over The Top and Exhibit A Communications, I've programmed solutions for Google as well as at least one other company that was later acquired by Google.

I've been CTO of an Internet SaaS company and spent my time pretty evenly between guiding the future technical strategy of the company, architecting software solutions for my dev teams, designing and running a data center to service our clients world-wide as well as being a technical evangalist/sales engineer to our media clients large and small.

I've also been Chief Photographer of the Daily Sun/Post newspaper back when it was a 5-day a week daily newspaper.

I also spent a great many years as a beach lifeguardfor the City of San Clemente as well as Jr. Lifeguard instructor and then as it's program coordinator.
Bragging rights
Private Pilot with Instrument rating and proud husband of soon to be 25 years (and counting).
Latest posts by Michael Gibbs (see all)