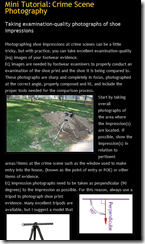 Ok, I?ll have to admit that I?m drawn to this site since my first paying gigs in photography was a forensic photographer to local attorneys documenting construction defects. That being said, this is a fun little site that combines evidentiary job listings along with mini-tutorials. Started only in November of last year, the Crime Scene Photography blog has great potential if they can keep it up.
I find it interest too that it appears they are just up the road from me. Their first posting is about a photo class starting at Golden West College just up the road from me. Hmmm?. Wonder if I can squeeze a little time out of my schedule this spring to attend? I also like their (admittedly short right now) link list of interest to those who document crime scenes photographically.
Have you ever fancied yourself entering the world of crime scene photography? Perhaps this is a great place to start!
I'm a technologist at heart, assisting companies best utilize the Internet to market themselves and sell their products and services online. This includes organizations as large as Google and as small as one or two individuals.
At Over The Top and Exhibit A Communications, I've programmed solutions for Google as well as at least one other company that was later acquired by Google.

I've been CTO of an Internet SaaS company and spent my time pretty evenly between guiding the future technical strategy of the company, architecting software solutions for my dev teams, designing and running a data center to service our clients world-wide as well as being a technical evangalist/sales engineer to our media clients large and small.

I've also been Chief Photographer of the Daily Sun/Post newspaper back when it was a 5-day a week daily newspaper.

I also spent a great many years as a beach lifeguardfor the City of San Clemente as well as Jr. Lifeguard instructor and then as it's program coordinator.
Bragging rights
Private Pilot with Instrument rating and proud husband of soon to be 25 years (and counting).
Latest posts by Michael Gibbs (see all)