This tutorial should be helpful to our clients wishing to access project intranets we've established in the ExhibitA.com domain using Google Sites. The challenge comes when you try and log into a Google Site (GS) that is part of a Google Apps domain (GA), it isn't immediately obvious how to log in if email address you are using is part of a different GA domain or is a standard Google Account (like for Gmail or Google Analytics, Checkout, etc).
While the graphics and the discussion will be specfic to logging into a GS on ExhibitA.com, it can be applied to any GS hosted on a GA domain.
So, for starters, when you follow the link provided to you for a given GS, you'll receive a screen like the following if you need to log in to access this site: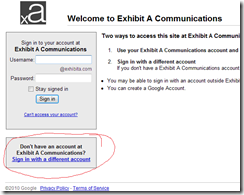 Sine it only allows you to log in using an account in the GA domain (@exhibita.com in this case), you need to click on the link circled in red above since you don't have an account at this particular domain.  Once you've done so, you'll be given the opportunity to log in using a different email address: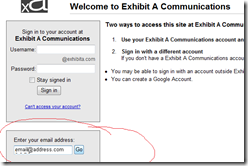 If the address you are using is part of a GA domain, you'll see a screen similar to the following that represents the identity of the GA domain you are logging in from: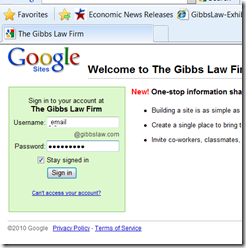 If you are logging in using a normal Google account, you'll see a screen similar to the following: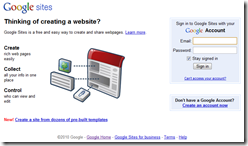 If you don't know if you have a Google account, go ahead and try your email address and password in Google Account login box. You may have a Google account set up and not even realize it. Of course if your email address is @gmail.com, you have a Google account. If it doesn't work, you can sign up for a Google account using your current email address by using the "Create an account now" link. Follow the instructions and you should be good to go!
If, on the off chance, you try and log into the site and get the following screen, you are using an email address that wasn't authorized for access into this account. Check with the person who sent you the link to the GS for clarification.

Hopefully this will be a pretty comprehensive explanation of how to log into a Google Site (GS) that is hosted on a Google Apps domain if you do not have an email in that domain.
Questions or comments? Please feel free to use the comments section below for legitimate comments or questions.
I'm a technologist at heart, assisting companies best utilize the Internet to market themselves and sell their products and services online. This includes organizations as large as Google and as small as one or two individuals.
At Over The Top and Exhibit A Communications, I've programmed solutions for Google as well as at least one other company that was later acquired by Google.

I've been CTO of an Internet SaaS company and spent my time pretty evenly between guiding the future technical strategy of the company, architecting software solutions for my dev teams, designing and running a data center to service our clients world-wide as well as being a technical evangalist/sales engineer to our media clients large and small.

I've also been Chief Photographer of the Daily Sun/Post newspaper back when it was a 5-day a week daily newspaper.

I also spent a great many years as a beach lifeguardfor the City of San Clemente as well as Jr. Lifeguard instructor and then as it's program coordinator.
Bragging rights
Private Pilot with Instrument rating and proud husband of soon to be 25 years (and counting).
Latest posts by Michael Gibbs (see all)