Have you lately been asked to log into your Google account to access a calendar, site, Google Analytics, Google Adword, Google webmaster tools or other Google service but didn't know how or what your Google Account was?
Well, this is simple if you have an email address that ends in @gmail.com as your email address is the key to your account. To utilize any of the other services available from Google including iGoogle, Web History, Google Checkout or Google Docs you would just sign in using your email address and the associated password.
However, it is more likely that confusion is caused when someone (a consultant or web geek or friend) sends you an email saying "I've set you up with access to Google Analytics for your site. Go ahead and use your Google Account with an email address of yourname@domainname.com" and you have no idea what they are talking about.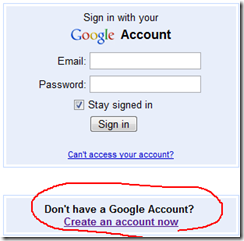 One of the quickest and easiest ways to do this is to go to https://www.google.com/accounts/Login and clicking on "Create an account now" link at lower right.
From the following screen, you'll be asked to fill out a number of fields before your Google Account is created. Among them are your email address, your new password (twice), what country you are from, a CAPTCHA to prove you are a human being and accepting their Terms of Service.
From that point on, you will be able to log in and take advantage of all the Google-y Goodness from the big G.
---
An interesting side note for Google Apps customers: While yes, your Google Apps email is technically a Google account, not all Google services will identify it as a Google Account RIGHT NOW. This is changing over time and more and more services seem to be honoring the Google Apps accounts as legit but for now, you'll probably still need to create a standard Google Account using your email address. For the sake of consistency, most of our customers will keep the passwords the same on these two different accounts just so they don't get confused when trying to log into any Google property.
Thoughts or comments? Please use the comment section below for LEGITIMATE comments on this subject!
I'm a technologist at heart, assisting companies best utilize the Internet to market themselves and sell their products and services online. This includes organizations as large as Google and as small as one or two individuals.
At Over The Top and Exhibit A Communications, I've programmed solutions for Google as well as at least one other company that was later acquired by Google.

I've been CTO of an Internet SaaS company and spent my time pretty evenly between guiding the future technical strategy of the company, architecting software solutions for my dev teams, designing and running a data center to service our clients world-wide as well as being a technical evangalist/sales engineer to our media clients large and small.

I've also been Chief Photographer of the Daily Sun/Post newspaper back when it was a 5-day a week daily newspaper.

I also spent a great many years as a beach lifeguardfor the City of San Clemente as well as Jr. Lifeguard instructor and then as it's program coordinator.
Bragging rights
Private Pilot with Instrument rating and proud husband of soon to be 25 years (and counting).
Latest posts by Michael Gibbs (see all)