Google announced today the timing for what we consider to be a HUGE change for Google Apps customers (that we talked about on October 1st): The consolidation of Google Apps accounts into the overall Google Accounts structure that control non-apps services (like Analytics, AdSense, Alerts, Reader, Earth, FeedBurner, Custom Search Engine, Checkout, Blogger). See the top integrated Google services by following link.
This video from Google explains how this change will positively affect Google Apps users
Logging into your Google Apps administrator control panel, you'll find the following announcement:

One step that isn't mentioned in my previous article about transitioning Google Apps accounts is that you can pre-approve (at least 61) Google services for your users during the wizard: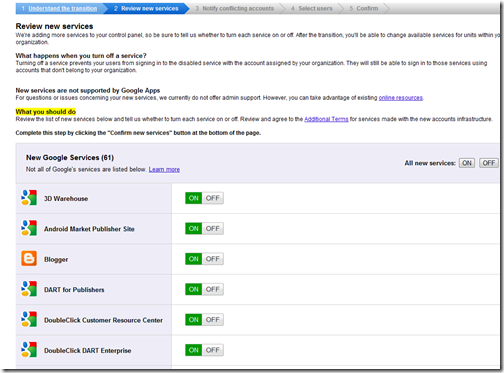 On the next screen, realize that Google doesn't automatically send the conflict message they talk about here: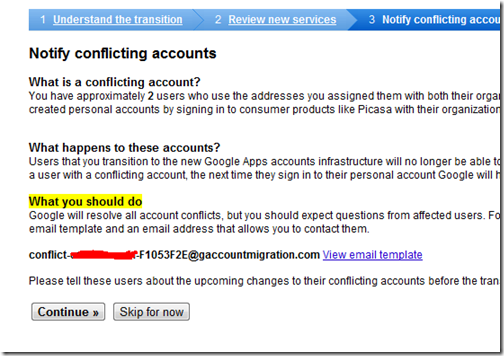 You will want to take the template linked and email it to the account shown in your control panel to reach out to all the users who have conflicting accounts.
Having worked under this new scenario for 3 months from one of our domains during their early adopter testing, we applaud Google on this change! We understand that this must be a HUGE undertaking given the number of Google Apps accounts but better now than waiting until there are more OR just keeping this artificial wall in place. Way to go Google!
What do you think about this change? Anticipating it or are you going to wait until they make the change for you in early 2011? Let us know in the comments below.
I'm a technologist at heart, assisting companies best utilize the Internet to market themselves and sell their products and services online. This includes organizations as large as Google and as small as one or two individuals.
At Over The Top and Exhibit A Communications, I've programmed solutions for Google as well as at least one other company that was later acquired by Google.

I've been CTO of an Internet SaaS company and spent my time pretty evenly between guiding the future technical strategy of the company, architecting software solutions for my dev teams, designing and running a data center to service our clients world-wide as well as being a technical evangalist/sales engineer to our media clients large and small.

I've also been Chief Photographer of the Daily Sun/Post newspaper back when it was a 5-day a week daily newspaper.

I also spent a great many years as a beach lifeguardfor the City of San Clemente as well as Jr. Lifeguard instructor and then as it's program coordinator.
Bragging rights
Private Pilot with Instrument rating and proud husband of soon to be 25 years (and counting).
Latest posts by Michael Gibbs (see all)