Looking to give the Enhanced Mailing Manger for ASPDNSF a try but don't have the time to do the install yourself? As many of my clients are consultants and programmers working for others, many find it easier to pay a small amount to have EMM installed right, the first time. Or perhaps you are a store owner and want to add EMM to your system but don't want to go back to the original programmers that built the site for you to implement this for you?
Well, Exhibit A Communications has listened to your pain and come up with an answer for you. We now offer installation services as low as $75 per installation (when purchased at the same time as a license) or for $100 per installation for the trial version. Scratch that, during this introductory period, we are going to offer install services at the low $75 rate regardless of whether you purchase the license or not!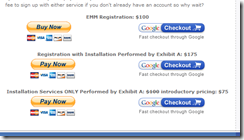 In order to take advantage of this offer, you will first need to go to our BUY page for EMM and choose the payment option you are interested in. Then you would need to provide us with the following information:
Domain Name (as define in AppConfig LiveServer value) to register EMM to
The full URL to the admin section of the website
A temporary administrative login/password to the admin section of website
The Full URL for FTP access to the site (to upload files)
An FTP login and password for the above URL.
Once we have this information, and your payment of course, we can proceed with installing EMM on your behalf.
Thoughts or questions? Please use the comments section below if you'd like the conversation carried on in public or you can always use our Contact Us page to send us private comments or questions.
I'm a technologist at heart, assisting companies best utilize the Internet to market themselves and sell their products and services online. This includes organizations as large as Google and as small as one or two individuals.
At Over The Top and Exhibit A Communications, I've programmed solutions for Google as well as at least one other company that was later acquired by Google.

I've been CTO of an Internet SaaS company and spent my time pretty evenly between guiding the future technical strategy of the company, architecting software solutions for my dev teams, designing and running a data center to service our clients world-wide as well as being a technical evangalist/sales engineer to our media clients large and small.

I've also been Chief Photographer of the Daily Sun/Post newspaper back when it was a 5-day a week daily newspaper.

I also spent a great many years as a beach lifeguardfor the City of San Clemente as well as Jr. Lifeguard instructor and then as it's program coordinator.
Bragging rights
Private Pilot with Instrument rating and proud husband of soon to be 25 years (and counting).
Latest posts by Michael Gibbs (see all)